Best E-Commerce Software 2019
Selling the products online is not as easy as it looks. It is required to use third-party software to put up your products and facilitate a smooth sales process. There is a big list of e-commerce software, which different sets of features and technologies. We have researched well to provide you the names of the popular and best e-commerce software in the market.
Shopify
This e-commerce software is considered to be the best for small businesses. This software lets you set-up, run and manage your e-commerce businesses successfully with no fuss. It offers online storefront and payment gateway. This software comprises website builder, web host, inventory management, marketing tools, back-end functionality, CRM and many more. Moreover, it is very easy to use this software and one does not require to possess any technical skills. So, you can set up and run your online store instantly.
Magento
This one is great for an enterprise e-commerce website. Highly flexible and powerful, this tool has become the first choice for most large companies. This is open source software that allows the developers to create a highly robust e-commerce website according to the clients' specification. This software is an ideal option for anyone, who wants to
run multiple online stores at a time.
WooCommerce
This software allows you to convert your ordinary WordPress powered blog into an online store at free of cost. WooCommerce is a shopping cart plugin that lets you build a WordPress based e-commerce website easily. This has become a popular shopping cart that has been used by more than thousands of brands and online businesses. WooCommerce offers endless customization capabilities from its extensive range of plugins, extensions, and themes, which are available on the World Wide Web.
Selz
This software is perfect for any e-commerce website that involves selling software, video and e-books, PDF files and other digital downloads. All that you have do is simply set up an online storefront, and this website will take care of various sales process such as processing orders, accepting payments and sending download links.
Apart from the above list of software, there are many e-commerce software to consider. If you are in the process of selecting the e-commerce software for your upcoming store, then we would like to give some tips.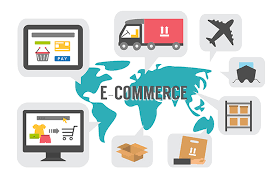 Cost
The price of the software varies on various factors such as brand name, list of features, etc. Before you begin your shopping, deciding your budget will surely help you narrow down your search.
Ease of Use
After you have decided the cost and narrowed down your selection, you have to choose a software product that is easy to use. When you choose an easy-to-use platform, you will be able to create your e-commerce website quickly with ultimate ease.
List of Features
Make sure to check the list of features, before you finalize the software. Most importantly, you need to check whether the features will really benefit you.
One of the easiest ways to choose the software is reading the software reviews on the Internet. Many experts have reviewed the software to ease the shopping process.